PLT WORKSHOPS 
Consider signing up for one of the upcoming award-winning curriculum and professional development opportunities that offer experiential, field based, interdisciplinary tools for effective outdoor lessons – all aligned with Common Core Stands, Next Generation of Science Stands, STEM & Proficiency Based Learning.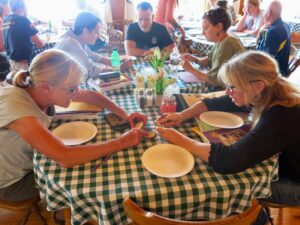 IN-PERSON WORKSHOPS
For more information on any of the workshops below, contact CJ at 621-9872 or cj@mainetree.org.
PLT for TREE FARMERS
A Customized PLT Workshop for Tree Farmers / Foresters
Resources to Share Your Tree Farm Story with Schools and Community Organizations
Choose One Location:
Augusta: Maine Forest Products Council
January 8, 2020
Standish:  Sebago Lake Protection Office (Water District)
January 23, 2020
Brewer: Fields Pond Nature Center
January 28, 2020

ON-LINE WORKSHOPS
 Can't make it to an in-person workshop?
Project Learning Tree provides on-line curriculum and Professional Development for educators and natural resource professionals.
Have you seen the benefits of incorporating nature-based activities in your classroom? Perhaps you've seen your students work better together when they spend time outdoors, or you've seen the enthusiasm they have for hands-on projects about the environment.
If you're looking for more ways to incorporate environmental education into your classroom, Project Learning Tree's new online offerings may be a great solution. For the last 40 years, PLT has trained 675,000 educators to help students learn how to think, not what to think about complex environmental issues.
In this age where children are spending so many hours indoors, it's increasingly important to get kids outside to learn and play. We know that environmental education has many benefits including building critical thinking skills, raising test scores, and improving children's health.
Looking for new ideas for nature-based activities? Is Online Learning for You?
PLT's online courses are designed for educators who are comfortable with self-directed learning. Each online course can be accessed whenever and wherever you are with an internet connection. A basic knowledge of computers and web browsers is useful to be successful.
Visit https://www.plt.org/trainings/online/ to learn about early childhood, K-8, and becoming a GreenSchool offerings . The courses include demonstration videos, planning exercises, state-specific resources, and more. Plus, you access these trainings whenever and wherever you'd like!
Empowering Educators, Inspiring Youth